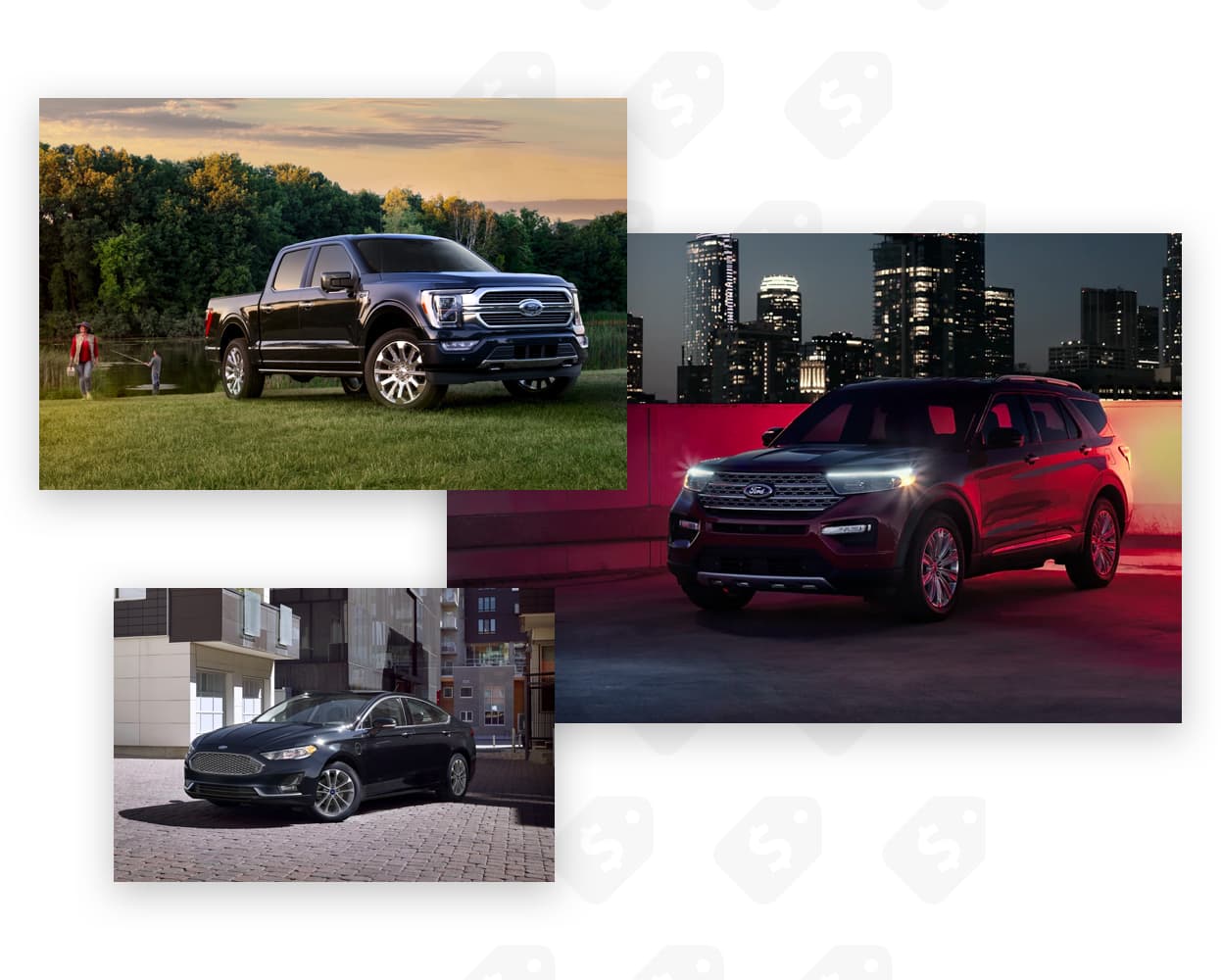 Take Advantage of This Month's Current Offers
Every month Ford releases incredible cash-back offers and special financing rates along with discounts featured in other special programs.
We're Here For You
Joe Bullard Ford always puts customers first!
Don't take our word for it: Read our reviews and see what everyone is saying.
What a wonderful experience we had with Joe Bullard Ford and Ron Scogin. It was a pleasure to deal with Ron, professional, very responsive, and did everything he said he would do. I highly recommend Joe Bullard Ford.
The staff at Joe Bullard Ford is exceptionally professional, helpful and friendly! Sales and Service will work with you for all of your automotive needs.
When I'm shopping for a car, going in to the dealership is usually a very difficult scheme of maneuvers. You have to plan your day around it, expect to be there for hours on end, and using all your energy to make sure you're not getting ripped off. At Joe Bullard Ford, I was extremely happy, and excited to be working with them. There are some truly kind, generous, smart and fair people working there, and I will say, even the small dealership itself looks like a true and welcoming Ford dealership. I worked with Debbie who was very reasonable and open about the car I was wanting to buy, and she made the experience very stress free. I had some really nice conversations from her. On top of that, Evelyn in finance was awesome! The whole staff was welcoming, and were very open about the vehicle, the fees, the processes I would need to go through, and answered every one of my questions. If you're going to buy a Ford or any of their used cars, GO HERE! I've never been more comfortable spending my money, and I knew that they were offering me the best deal possible. Thank you Joe Bullard staff for making my first car buying through financing experience enjoyable, stress free, and exciting!
Great service manager Joe and his entire team
Had a breakdown and these guys got us right back on the road! A+ customer service!
Great experience by great folks with a great product.
Very professional and very knowledgeable about my new f-150. And also willing to help in anyway they could. Anyone that is looking for a Ford need to give these people a hard look at the people in Grove Hill Alabama. You'll be very happy that you went there!
We purchased a 2006 GMC Sierra from Joe Bullard Ford in Grove Hill on Monday. The sales experience was very different than with other experiences. We did not finance, but the deal was so smooth and fast. Mr. Scogin was so nice and helpful to us. The vehicle was high mileage (as all vehicles are these days), but the price at the dealership was better than any we have found. And the truck is really nice. The interior is leather and in good condition. There are a few cosmetic things that we are going to repair, but for a vehicle this old, it is remarkable. We have not driven it yet except to drive it home because we just got insurance on it today and transferred a tag from a vehicle we sold yesterday. So we really haven't had a chance yet to experience all the truck has. But we are at this moment very happy with it and the experience we had at Joe Bullard Ford in Grove Hill and with Mr. Scogin. I would recommend the dealership to others.
Go see Ron Scoggin and the staff at Joe Bullard! They were friendly, professional, and made the buying process so easy! I would definitely buy from them again!
I recently purchased a 2022 Ford Transit Cargo Van from Joe Bullard Ford. Debbie Powell was my sales rep and she was fantastic. The order was made through our franchise and the vans took a while to arrive. Once they came in, she made the process smooth and quick so we can get our business up and going as fast as possible! My purchase was made remotely and everything was great! Thanks again Debbie!
I have purchased several cars through the Joe Bullard network. All experiences have been first class. My recent purchase from Joe Bullard Ford was the same. Ron Scroggins could not have been more punctual, informed and polite. First class operation. Ron is fantastic.
Go see Ron Scoggin!!! Awesome staff! Helpful , patient and made sure I was happy with my purchase!!!!
What a great place to buy your next vehicle. The people at Joe Bullard I met were friendly, professional, and a pressure to deal with. I will absolutely deal with them again in the future and recommend them to anyone looking for a new vehicle.
I recently purchased a 2018 ford explorer from joe bullard in grove hill, and the whole process could not have been easier!! Ron Scoggin and the entire staff were very helpful and a pleasure to deal with! I highly recommend checking them out!
This has to be the easiest vehicle purchase I ever made, and wonderful people at Joe Bullard to work with!! I searched Ford's website for a 2022 Ford Escape hybrid within a 100 mile radius of my home, and the only dealer that had any was Joe Bullard in Grove Hill, AL. Within a few minutes of putting in a request for information, Corinthian, the Internet Sales Specialist, called me and told me about the two they had on their lot. I didn't want to drive over three hours to look at the car and buy it, so she sent me a link to the car with pictures and a link to the window sticker. I shared it with my wife, and we decided to buy the Escape SE hybrid. I called Corinthian back, and she passed along my information to Chris Noble. He gave me more information about the car, and I told him we were going to buy it. I applied for financing over the phone and sent him the necessary documents he needed. Within a short time, Evelyn Jones from financing called me back and let me know I was approved, and that I was qualified for several rebates. She went over financing, interest, payments, and all the necessary paperwork. Once I was done, I was connected back to Chris Noble. He was wonderful to work with, and he arranged to have my Escape delivered right to my front door for free! The deliver driver went over all of the financing paperwork, pointing out where I needed to sign everything. He gave me the keys, and thanked me for the purchase! After the sale, Chris Noble called me several times to thank me, and to make sure everything was OK. He explained how to get my car connected to the FordPass app, and get my FordPass points. I also got a link to Joe Bullarrd's reward program for buyers, which has some wonderful perks!! I can't thank Corinthian, Chris, and Evelyn for making this purchase as easy as possible!!
We purchased a used vehicle from Joe Bullard Ford Lincoln. We live in GA and found our car listed at their dealer, it was the best car purchase we've ever experienced. Chris Noble was very accommodating, he worked up numbers for us to make a decision on our trade in, set up delivery to our door, and made sure we were completely satisfied with our purchase! No games just a smooth and simple purchase. If you are looking to buy a car I wouldn't hesitate to purchase from Joe Bullard Ford Lincoln!
Go to Joe Bullard Ford in Grove Hill for your next vehicle. Chris (Critter) Noble is a great salesman and will help you anyway he can. He goes above and beyond to make sure people are taken care of before AND after the sale!
Easiest fastest friendliest fairest car experience we have ever had. Everyone involved was exceptional. Many thanks to the entire Bullard team. Great folks.
Charles Hayes was exceptional in his handling of my purchase. He and Mark Councilman are really good people to deal with. I would deal with them both in the future!
My sister had an appointment at 8am. She dropped Explorer off and the maintenance must not no how to keep schedule... They finally took it in at 2:30pm. No concept of time...
Critter Noble got my husband financed for this 2014 Dodge Ram with affordable payments that didn't kill our budjet. Will purchase again frim Joe Bullard
I worked with Chris Nobles. Great to work with. Straight forward, helpful, and all indications are honest as well. Made purchasing from Pensacola, 2-1/2 hours away, very easy on us the buyer. Would recommend checking with them before buying, even if 100 miles away. Only issue was Joe Bullard Ford applies a high non-negotiable doc fee that was not divulged until final sale.
Debbie was great. Thank you.
Excellent service,I would highly recommend this place to anybody to buy a new or used vehicle
Go see Debbie, she will make it quick, easy, and she will take great care of you.

Ford and Used Car Dealership in Grove Hill, AL
Joe Bullard Ford is the premier new Ford dealership in Grove Hill, AL. We stock an exciting selection of new Ford for sale near you. In addition to our array of new Ford models, we also offer a fine selection of used cars for sale. Come to Joe Bullard Ford in Grove Hill to experience the Joe Bullard difference and to see for yourself why our customers come to see us time and again.
Grove Hill Used Car Dealership
If you are looking for a used car for sale near you then look no further than our used car dealership. Our team works tirelessly to provide a selection of high-quality, fairly priced vehicles to fit a variety of needs. So if you are in the market for an economical commuter vehicle, an off-road performer, or a hard-working truck we have you covered. Each of our used vehicles undergoes a thorough inspection and meticulous reconditioning before it is ever offered for sale so that you know you are getting a quality used vehicle each and every time.
Ford Dealership in Grove Hill
Find the popular Ford models that you are looking for at Joe Bullard Ford in Grove Hill. Our team is here to help you find the perfect Ford vehicle to fit your needs. So if you are in the market for a new Ford truck like a Ford F-150, Super Duty, or Ranger, or a versatile SUV like the Ford EcoSport, Escape, Edge, Explorer, or Expedition we can help you find it at Joe Bullard Ford. Come and visit us in Grove Hill, AL to see our selection of new Ford for sale near you.
Leasing and Financing
We all have different priorities when it comes to financing a new or used car purchase. Those priorities range from the lowest down payment, most affordable monthly payment, or lowest initial purchase price. The priorities can be influenced by our personal financial situation and the specialists at Joe Bullard Ford's finance center are ready to work with you to find the solution that best meets your financial needs.
Automotive Service Center
Regular automotive maintenance and service can be a key factor in the longevity and performance of your vehicle. Let our factory-trained and certified technicians help you to keep your car or truck running smoothly for years to come. Use our online scheduling tool to make your service appointment today.
Contact Us
Joe Bullard Ford
19684 Highway 43 North
Grove Hill, AL 36451
Sales:
251-202-7479
Service:
251-298-8586
Parts:
251-272-7936
Directions